Scroll down for a related poem and activity to enrich your reading of the book.
In the inside cover, the author, Eric Carle tells us that The Very Lonely Firefly is the 4th book in his VERY quartet and it is about belonging. "We all want to belong to a group, a family, our own fellow creatures."
The first book in the VERY quartet, and probably the most familiar is The Very Hungry Caterpillar, with the theme of hope.
The second book is The Very Busy Spider, and is focused on our need for work.
The third is The Very Quiet Cricket, about the universal search for love.
HOPE.....WORK.......LOVE......and BELONGING


A little light is going by,

Is going up to see the sky,

A little light with wings.

I never could have thought of it,

To have a little bug all lit

And made to go on wings.




(Elizabeth Madox Roberts)







Firefly Craft
You can make your very own Fireflies. This is an easy and fun summer craft, suitable for toddlers on up!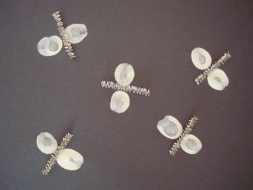 Here's What You Need...
• Black construction paper
• White paint
• Paper plate or shallow dish
• Shiny, metallic pipe cleaners
• Wire cutters or sharp scissors
• Glue

Here's What You Do:
1.
Pour some white paint into a paper plate or shallow dish. Make white thumb prints on your black paper, to look like wings of a firefly. Make a bunch of them all over your paper!

2.
Cut your shiny pipe cleaners into small pieces to make the body of your bugs. Glue them in place and you're done!
*
from Busy Bee Kids Crafts